Bloggers are always extolling the virtues of "Free Advertising" schemes that sound wonderful to a new or inexperienced blogger. The reality is most bloggers are just trying to put together a post for the day and simply introduce their readers to something they might not have seen before. They have had neither the time nor the inclination to actually experiment with the sites they are introducing.

The following are four ad schemes I have tried and feel they fell short of expectations.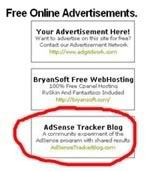 The scheme of
Ad Grid Work
is you design a text ad for yourself that will display on their network. You then place an ad box, similar to the one on the left, on your site. This puts you in the network. You are started off with 1000 free impressions, or displays of your ad, then you go to a one for one display ratio (For every ad impression you show your ad gates shown once.) and when an ad on your site gets clicked you get 1000 more impressions.
Here are the problems
In the world of Pay Per Click text ads, 1000 impressions is nothing.
I received blocks of 1000 impressions 3 times and on every occasion they had all been run before I got the email, every time in the middle of the night.
While I did lose a few readers that clicked on the ads here, to my knowledge, I did not receive a single visitor from my ad on the network.
The idea of free exposure sounded good to me when I didn't know any better. The fact is the ad block takes up too much of your precious real estate for almost no return.


Review Back
is run by the same guys who run Ad Grid Work. The concept of Review Back is bloggers list their blog by category and then contact one another and arrange reciprocal reviews.
In all fairness I must say, all I did was list my blog. I did not actively pursue requests for reviews but I also did not receive any inquiries.
Interestingly, I tried to find my blog in their directory but could not locate it until I logged in to my dashboard.
It seems like a good idea that just doesn't work that well. Besides, why would anyone want to do that when they can take part in "
I Review
" and "
Fair Review
" and receive better exposure.

Blogger Swap
is another free advertising scheme, only this time you use a 120x120 image instead of a text ad. You start off with a whopping 100 free impressions and then go to a 1:1 display ratio.
I removed Blogger Swap because;
a) I thought it looked ugly and out of place.
b) The whole time I ran it I only received one visitor from it but lost 11.
I don't know how successful Blogger Swap is. It seemed like the only ad I ever saw being displayed was Google's Blogspot Blog.



Bla.st
is unique in that it is a directory that uses business card images instead of plain old text descriptions. You can get a listing for free but I decided to pay a few dollars for a higher placement.
Membership also allows you to display a widget with small card displays on it as well as a link to
Bla.st
. The idea being when you refer someone like me through your widget and they buy a better placement you get 50% of the money. (The blogger who referred me to Blast should have received $2.70 commission on the sale.)
Here's the problem; very few people actually pay for better placement so you end up giving up a lot of real estate to advertise for other blogs while losing a few readers and gaining almost nothing.
If I had it to do over again I would probably take advantage of a free ad on Blast and use the money to sponsor a category on Blog Catalog.
The reason I listed
Bla.st
last in this post is because I feel like as a free directory it works well. I don't feel I have received enough traffic to justify the expense of the better placement and I don't think the display of their widget is beneficial. I also have to note, of the four Bla.st is the only one who's links to this blog show up in
Yahoo
.
These are my experiences.
Yours may be different. If you have had better results with one or all of these please leave a comment and if I feel the difference is significant enough I'll edit the post to reflect it.
If you've enjoyed your read,
grab my feed!