This post is a follow-up to the one I originally posted yesterday on Top Secret Blogger titled "How I Increased RSS Subscribers By 72% in 1 Week". You may want to read it first if you haven't already.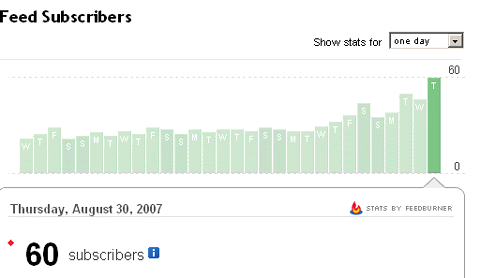 I was amazed today when I checked the FeedBurner stats and found another significant jump in subscribers.
This amounts to an increase of 107% in 8 days.
That, my friends, is staggering.
I don't want to undercut or duplicate my other post, so if you want to read the specifics of how we have accomplished this, you'll have to go read it
there
.
I want to take this chance to welcome all of our new readers and say don't hesitate to click on over and leave a comment if the mood strikes.
If you enjoyed your read, grab my feed!