These are the three Pay Per Click (PPC) advertising services I have used so far and how they have worked out.


Microsoft adCenter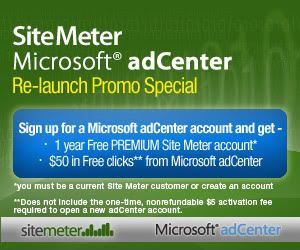 I posted an article last week about adCenter but wanted to include it again to show how it fits into the big picture.

Until the end of July (That's today!) Microsoft adCenter and Sitemeter.com are running a joint promotion. When you sign up for adCenter at this link you will receive $50 in free clicks in a text ad keyword campaign and an upgrade to the premium Sitemeter account. AdCenter requires a separate $5 setup fee so you end up with $45 in free ad clicks.


Yahoo Search Marketing



I have to give credit to John Cow or Chow (Which is it? Does anyone really know?) for posting this link that takes you to promotional offer of $75 in free PPC search ads. You have to pay a $5 deposit to activate your account but, unlike Microsoft adCenter, the $5 is applied to your account and can be spent in your ad campaign so you end up with an $80 keyword ad campaign for $5.


Bidvertise



<Bidvertise is a text ad PPC program as well and is offering $20 in free clicks to new advertisers. While the other two programs are keyword search campaigns (When someone uses one of the keywords you chose, your ad appears in the right sidebar of the search page ala Google.), with Bidvertise you chose a category of websites you want your ad to be shown in. Bidvertise then rotates your ad through their network of pre-positioned ad blocks similar to Google AdSense units.


I can't encourage you enough to jump in and invest in your blog but, even more so, invest in yourself. If you have never run a PPC campaign you will learn more from this than any $9.95 ebook. Besides, with these three offers combined, you can put together a $150 PPC ad campaign for $10! I did.

I track my stats very closely and I know that the ads are working on this blog. (Week 4 stats come out Thursday!) I have received quite a few readers that have chosen to stay and several have become feed subscribers. In fact it's entirely possible that you came here from one of these ads.

My cost per click is averaging 37 cents but even if it were 50 cents that would equal 300 new visitors for $10 or 3.3 cents apiece. That's a deal I'll take.