Seriously, I want to know. I really want to know what you guys think about this.

Is it asking too much that someone actually VISIT a blog before they join the community or, for Pete's sake, make you a contact?

Look, I'm not as stupid as I look. I know social networking is the single biggest reason for this blog's success. No doubt about it, but come on.

When I first joined MyBlogLog I was flattered when someone made me a contact, what with the nice little announcement that I had a new fan. After a couple of weeks I realized that a number of these folks had never been on the blog. I decided to stop adding any new contacts that had not actually visited the site.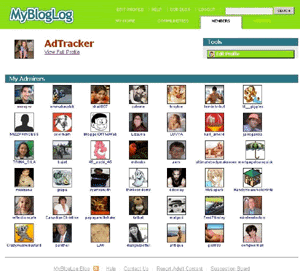 When we discussed this topic last week I had accumulated 28 fans that were apparently smitten with by avatar, although the infatuation wasn't quite strong enough for them to click one more time. As I post this, the number is up to 42.

Am I missing something here? What's the point? Is there some sort of prize for having the most contacts?

I would never dream of listing someone among my contacts without at least knowing what they have written on their blog. I mean, for all these people in the peanut gallery know, we're in here discussing the meanest ways to kick puppies and shave house cats. How would they know any different? Obviously they don't care.

Understand this. I'm not griping about any of you guys. I know how things work and I have no problem adding anyone who has taken the time to visit here, but rest assured, I will visit your site before I do. The only way I wouldn't add you is if your content offends me and that's not easy.

Back to my question. Am I being unrealistic? Do I expect too much? What do you do? Do you ignore them? Do you just add everyone that comes along? I'm seriously asking for input here.

Thanks for being patient during my rant (Yes Rhys, I know.) and thank you for taking the time to respond.