That's right, it's time for the first contest here at the AdSense Tracker Blog. I scored a few Pownce invitations and I'm going to pass them along to 5 lucky readers this weekend.

What is Pownce?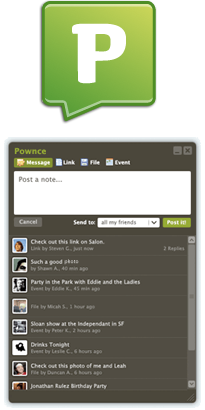 From the Pownce website:

Pownce is a way to send messages, files, links, and events to your friends. You'll create a network of the people you know and then you can share stuff with all of them, just a few of them, or even just one other person really fast.

How Do I Get In?

At least to start, we're only opening up the site to a few people who can invite their friends. Soon, we'll let some more people in.

What Exactly Can I Send?

Right now, there are four basic things you can send: messages, links, files, and events.

You might send an event out to a dozen of your friends letting them know you're hosting a party this Friday. They could easily get the event details you entered, respond with questions or comments and then quickly rsvp.

Say you had a great photo you wanted to share with all of your friends. Just add the file and all of your friends will get it right away. They'll be able to reply and tell you if it's cool. You could even post songs you recorded in your home studio to share with your friends.

How Do I Win?

Winning is simple. I'm not going to be like the Cow Man and make you jump through all kind of hoops like digging and stumbling or fumbling or any of that crazy stuff to win yourself one of these coveted invites, No sirree. All you have to do is leave a LEGITIMATE comment on this post or any post AFTER this one this weekend. If you decide to fave me that would be wonderful but not required. (I fave back, if you were wondering.)

"What is a legitimate comment?", you might ask. Simple. A comment that actually has something to do with the post. "Me too", "Ditto", "Comment" and such will not count. If the judge (Me) doesn't think they are legit, they get dumped. Each comment is an entry and you may comment multiple times but repetitive or redundant comments will be deleted. The contest will end at 12:01am Central Monday. At that time I will put all of the entries into a container and draw 5 winners!

Good Luck and get to commenting!