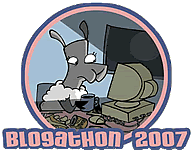 Having trouble deciding what to do with those extra Google Dollars you've made off your AdSense ads? Your problems are over!

It's time for the great Blogathon 2007! It all gets started at 9:00am Eastern 6:00am Pacific tommorrow morning.

What is Blogathon you ask?

Blogathon 2007 is 579 bloggers posting every 30 minutes for 24 hours to raise money for their favorite charities through sponsorship pledges. As a reader all you have to do is pick a blog or several blogs that you want to support and then make a pledge to their charity and/or make encouraging comments during the blogathon. You can find a list of participating bloggers and the charity they are blogging for here.



This year I'll be supporting Mike & Tish over at BlogsWeLuv.com who are blogging for the Glaucoma Foundation. As a bonus, for every $5 of your donation you get a chance at a $25 Amazon.com gift card as well as some other prizes they will be giving away throughout the 'thon. This is a worthwhile cause and deserves everyone's help.

Even if you can't stay with your chosen bloggers the entire time, at least swing by and give a shout of encouragement.

Something to think about before you go out this evening to spend money.