Me - "I'll take, Things That Are Intimidating for 0 Dollars but might get me a little exposure, please Alex."
Alex - "Very well. The answer is, "You are nervous and intimidated about writing a review of a blog that is written by some of the best bloggers on the planet who post authoritative how-to articles about blogging."
Me - "Umm... What is reviewing Blog About Your Blog?"
Alex - "Yes, the judges will accept that answer! Congratulations! You win absolutely nothing but a cool back link that you already have. Hope you don't blow it."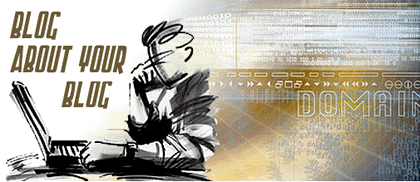 Where do you start with a review of one of the best "Blogs About Blogging" out there? Well, let's start at the top.
Header
The first thing you notice when you hit the Blog About Your Blog page is the incredible logo. In my book this is has got to be in the top 5 "Blogs About Blogging" logos out there and, to be honest, I can't think of the other four.
What blogger can't identify with the guy staring at his computer wondering what to type?
Content
The header logo simply sets the stage for a community blog manned by some very recognizable names (I'd name some but I don't know who to leave out.) who publish high quality posts that leave no doubt in the reader's mind they speak from experience.
After you've taken a couple of days learning how to Write Great Post Titles, Get More Comments, Optimize Your Blog and learned to Recycle, slip over to the BAYB Store and pick up a T-Shirt with that cool logo. (There really should be a link on the home page.)
Layout
While the colors of the site are pleasing to the eyes and the flow and navigation is smooth, the old style narrow format causes the necessity of a small font in the sidebar that causes the text to blend a bit. (At least to me.)
While the majority of the internet is being slow to accommodate the new monitor formats, I think a blog who's focus is staying on the cutting edge of progress could afford to be a leader in this area.
Summary
I don't expect you to just accept my word for any of this. The fact is, any blog with almost 300 subscribers and over 11,000 unique visitors last month is worth a look. Combine those stats with the fact Daily Blog Tips ranked Blog About Your Blog in the top 25 blogs in the world about blogging and you have yourself a Must See blog.
Now, click over there and check 'em out and tell Matt, Tracker sent you!
If you'll excuse me, I have to go check Google and see how I place for "blog, blogs and blogging".
If you've enjoyed you read, grab my feed!