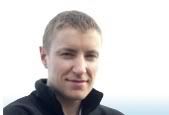 I have always heard there is nothing like an Irish birthday party and judging by the contest David Airey is throwing to celebrate his blog's 1st anniversary, I would say that is true.
David Airey, a graphic designer specializing in logo design work, is giving away over $4,000 in prizes during his celebration contest.
Folks we're talking about some serious prizes here! He's giving away everything from forum membership, design help or watercolor art to a complete pro blog package.

He has arranged participation from some of the biggest names out there. Check out the list of sponsor sites.
Fraser's Affiliate Marketing Blog
design for the Blogger platform
Entry is simple, just check out his contest post and get yourself entered.
When you decide you are ready to step up to the best logo possible, contact David.