One thing I've noticed during the chaos of the past several days is a feeling of disconnect from the blogosphere.

I do the majority of my blog reading through feeds, however, it seems every time I open my feed reader lately I have 100+ posts to read. Usually I scream through the posts as quickly as possible but more than once I have simply closed it out again rather than spend the time to deal with it.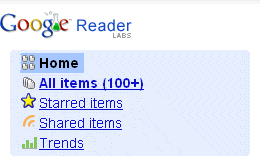 This is not good at all. I find myself blogging in a vacuum. I don't know what's going on in the blog world, I'm not making comments on the blogs I used to regularly visit and I haven't been participating in any social networking activities at all.
I think the recent decline in traffic is a direct result of this.
I've got to get this turned around and the first thing I'm going to do is thin out the feed reader. I have entirely too many blogs on there that I really don't read. I'm going to institute a new guideline for myself. I will limit my feed reading to one hour. When my subscriptions reach that level I will drop an old feed before adding a new one.
With my feed reading limited to one hour will have time to enjoy the content and participate in the conversations thereby releasing the vacuum and letting the blogosphere to come rushing back in.
If you find yourself overwhelmed by your feed reader I suggest you consider imposing some limits as well, if for no other reason than to maintain your sanity.
If you enjoyed your read, drop one of your old feeds and grab this one!