If you are one of those people that has to try out all of the latest beta tests but have a hard time getting invitations, I have a site for you.
Invite Share is a central clearing house for invites to all the coolest beta programs (Pownce, Joost, 8apps. Moola, Spock, etc.). After you sign up simply choose the beta program you would like to receive an invitation to and get on the list. If you are one of the fortunate individuals who have some extra invites, bring them along. They are your currency. The members that give away more invitations move higher up the list to receive invitations. The word is that Invite Share has been having a few hiccups and growing pains but it is getting pretty good overall reviews.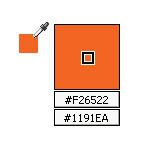 So, you're surfing along and you come across a beautiful color palette you would like to use on a site you're working on, what do you do?

If you have Photoshop you can fire it up, let it load, and use it to capture the colors or, you can use this simple color picker tool I found on AdesBlog.

The beauty of this tool is its simplicity. It sits in your tool tray until you need it, then click it, capture the desired colors, right click and it's back in the tray. Simple.

The color picker gives you the colors as HTML, RGB, C++, VB and Delphi codes and with the library feature you can store your colors and convert from one color to another.
The full version of this tool is available for download for less tan $10, however, I've been playing with the free trial version for about a week and it seems pretty cool.
Full Disclosure
By posting this review I have qualified for a PR 7 link, but all opinions expressed are truly mine.