Today we're going to be discussing the positives and negatives of that world famous Mediterranean port, Roman Dock.
OK, not really.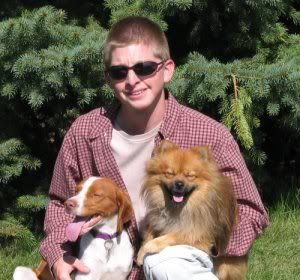 The truth is romandock dot com is a blog run by a guy named Nick who, when trying to come up with a domain name, decided to combine the names of his two dogs, Rocky and Mandy. (Aren't they cute?) Drop some letters, add some letters and there you go, romandock.
You see, Nick and I agreed to exchange blog reviews. His review of this blog can be read here. Nick took the time to write one of the most in depth and complete reviews I have ever read. In it he made several good suggestions, some of which have already been implemented.
On To The Review
If you think picking your domain by combining your dogs' names is original, how about having one of your categories be Ham Radio?
It's quite obvious the author is passionate about blogging but he may be even more passionate about Ham Radio. This dual passion has led to the only dual niche blog I know of. Blogging and Ham, interesting. As a matter of fact, Nick's first contest is for a Ham License Manual with the intension of getting the winner licensed.
Layout
The first thing a reader notices after the beautiful header image is the Super Mondo Deluxe RSS Icon. We're talking about a button so large it's a little bit distracting, but that is the point isn't it? This button is big enough to be worth the visit to romandock just to see it. Seriously.
The sparse ads and widgets seem to be well accommodated by the 3 column Word Press theme. The pastel earth tone color palette creates an "easy on the eyes" environment and go really well with the aforementioned header image.
The Content
Romandock is an active blog with content posted daily. A quick glance at the MyBlogLog widget reveals several recognizable avatars. This alone tells you he has quality readers and is providing quality content.
Nick shows a discipline I could only dream of by keeping his writing confined to 4 categories; Computing, Ham Radio, Money and Ramblings. (I know, that last one is kind of wide open.) His posts are always well thought out and very thorough.
Suggestions
Aside from the content of romandock, I found some other things appealing as well. I really like the header image and the lines and presentation of the blog itself are clean and direct, but I must make a few suggestions.
I can accept the fact that the distractingly large feed icon is only doing its job, but imagine my disappointment when, upon clicking it, I was taken to a page of code instead of the customary FeedBurner page. I would strongly encourage the author to start using FeedBurner. Not only will this make his feed easier to acquire, it will give him stats as well as an email subscription option. I would bet if he were to use FeedBurner, add an email option and let his readers know about it, he would increase subscribers by 10-20% within a week.
I would also encourage Nick to spice up his content with a few images and some bold text. This would make the articles both scannable and sticky at the same time.
Since there is already a row of nav buttons along the top of the header, I would eliminate the "Pages" and "Categories" boxes from the sidebar. I would then move the "Search" box to the standard top position with the "Sponsored Links" box directly below it. This would put the sponsored links above the fold thereby increasing their value.
I would recommend adding "Top Commentators" and "Popular Posts" boxes below the "Sponsored Links" box and above the "Blog Roll".
Lastly, I just have to say, I'm torn on the Kontera ads. I realize a blog about making money must explore every avenue but I just don't care for them. I will say, however, that they are more under control than I have seen on other blogs. Meaning there are fewer of them and they don't seem to be taking over.
Wrap Up
As you can tell, other than the RSS issue, my suggestions for improvement are all based on personal taste and opinion. The fact is, Nick writes very well thought out and informative posts about computing and blogging. I don't know anything about Ham Radio but I suspect his writings on that topic are just as helpful.
I have always found romandock dot com to be worth the visit and hopefully I'll be able to add it to the feed reader one day.
If you enjoyed your read, grab my feed!